Thrill of The Chase: A US Navy Issued Tudor Submariner 9401 with Paul Russell
Thrill of The Chase is a new interview series with collectors and owners of military or other interesting issued Tudor watches. We will find out about the acquisition, history and attributes of some very cool watches. Today we meet Paul Russell, a passionate Tudor Collector and renowned expert on Canadian Navy-issued Tudors. Here he shares with us a fascinating 9401 'Hybrid' Submariner...
Do you remember last year we were able to share with you a never-before-seen Tudor advert that featured what we called the 'Hybrid' Submariner? Watches in this configuration have been around for years, but nobody really knew if it was a military adaptation or if Tudor produced them this way. The official advert cleared that up unequivocally but interestingly, in my experience, the vast majority of these watches that have surfaced over the years have been linked to the Canadian Navy. Today's Thrill of The Chase interviewee has spent significant time researching Canadian Navy-issued Tudors and I consider him to be one of the leading experts in this field. Today he shares with us a very interesting 'Hybrid' example and goes deep into its origins. Paul Russell really does love the Thrill of The Chase…
The original Tudor advert featuring the 'Hybrid' 9401 Submariner
"I had always believed that this watch was issued to the Canadian Navy probably in the mid 1970's. It has hand done case back markings are just so bad that they have to be genuine! The markings on this watch are "CEL 2184" with another at least two sets of numbers scored out." Paul first became aware of the unusual dial and hand layout when he saw it in the Tudor Anthology book by Alberto Isnardi and absolutely loved it: "I always think that you should collect and cherish things that speak to you, and this one ticks that box for me."
Paul Russell's Tudor 'Hybrid' Sub on the wrist
Lightning Strikes Twice
Russell is well-placed to talk about these watches as he has owned two! "The first was from a collector who didn't have a great deal of background information other than it was bought in Germany. Shortly after acquiring the watch I was made aware of an identical one on a German watch dealers site. I think I had paid for it within an hour of seeing it on the site! I know all collectors, no matter how experienced they are, still get nervous when waiting for an incoming package. The wait for the watch was a particularly nail biting one for me as I knew this was a special watch."
However, there was nothing to worry about and the second watch arrived safely a few days later. As you can see from the picture below, they make  fine pair and the lume and hands have aged similarly. But how did Paul know that they were both issued? "The strange hand engraved scribbles on the case back were exactly the same as the other watch and only 3 numbers apart, CEL 2181 and CEL 2184" And so the research began…
Lightning does indeed strike twice! Two 'Hybrid' issued Tudor 9401s
Compilation of a Nation
The one thing that research requires is a range of examples against which to compare and help build a knowledge bank. I have done this with South African Navy-issued Tudors and it has enabled me to understand when and now how the watches were issued. Paul Russell began the mammoth task of compiling a database of Canadian Navy-issued Tudors. Patience was clearly the key! "Over the last few years I have trawled the forums and Instagram for any interesting pieces of information relating to both Canadian issued watches and particularly the meaning of the CEL markings. I put together a database of watches which were either known or thought to have been issued. Those issued watch that were known to be issued were from retired divers and this gave me a starting point on which to base my research." As is often the case, Paul has also made some great friends during his years of research. "The research I have undertaken to find out more about this watch has led me to make contact with some amazing, passionate collectors around the world. Two great guys are @saasqwatch and @dirtyharrie who have both provided some great Canadian Naval information and supported by endeavors."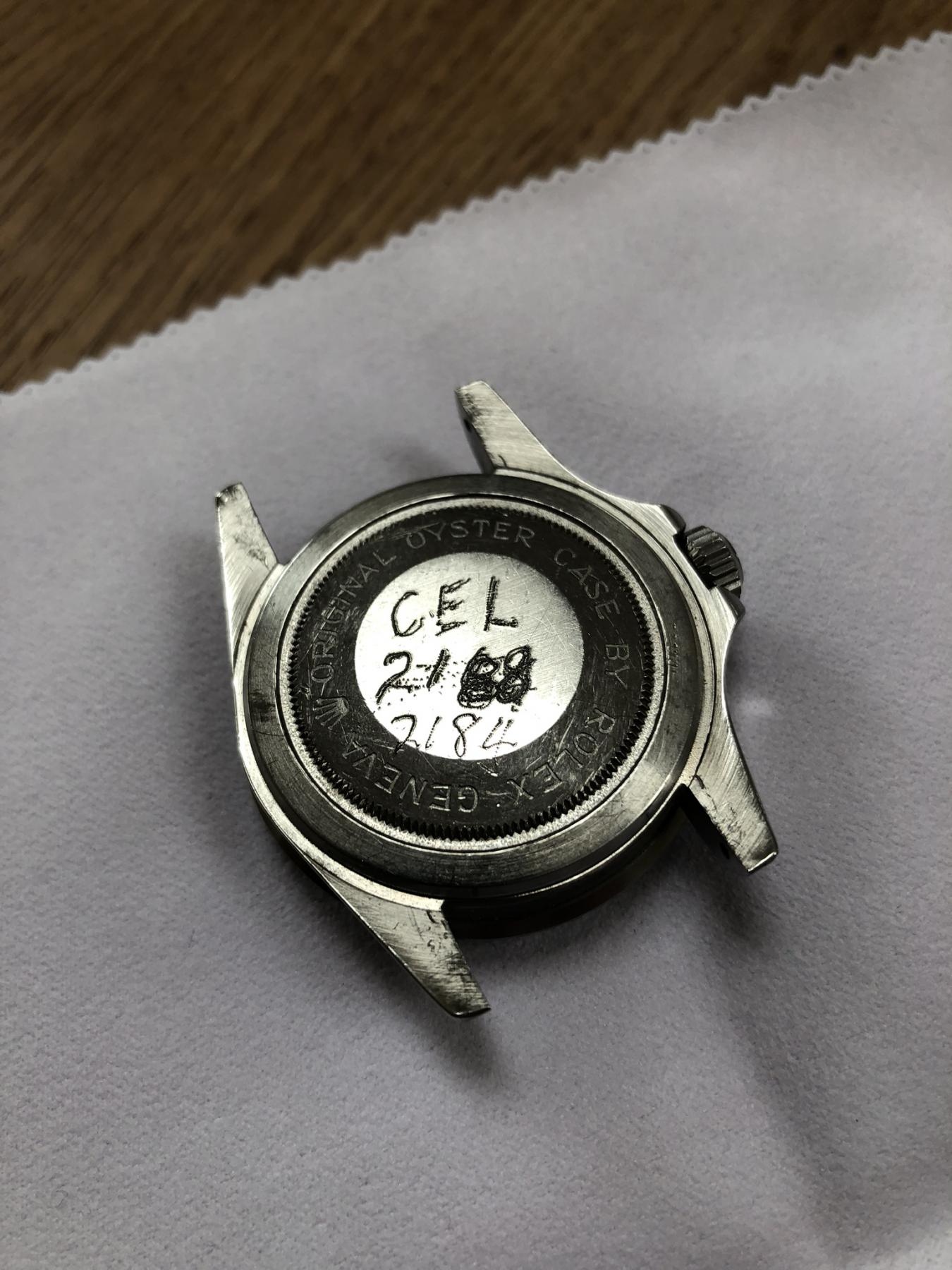 The all-important caseback engraving - 'CEL 2184'
As Paul's research developed a pattern began to emerge. "Issued watches with the same dial and hand layout on my watch were all within quite a narrow serial number range and as my watch sat right in the middle of the range, this gave me some confidence that it may be an issued piece. Also, most of the known examples had come from reliable sources in Canada."
One fact that we know about Tudor MilSubs is that they tend to be issued in case serial batches. Whilst not absolutely conclusive, it is certainly a strong indicator of a watch's issued credentials when this box can be ticked. Watches delivered to the US and Canada also have a anomaly that also emerged in these watches…
"As my research developed, another notable  factor became very clear and that was that all the issued Canadian watches housed 17-jewel movements as opposed to the 'normal' civilian 21-jewel. This was found to be the case with many watches destined for the Canadian market and was obviously some sort of import tax avoidance. As my watch has a 17-jewel movement, it was another positive box ticked in the research."
So was the watch Canadian or American issued?
Unpicking The Code: CEL
Unlike Rolex Military-issued Submariner collectors, Tudor MilSub enthusiasts have to rely solely on the caseback engravings in lots of cases. Where the Rolex watches have different hands, dials and bezels and often case modifications (fixed spring bars), Tudor issued watches were generally delivered in civilian guise with markings added to the caseback to help Stores Masters keep track of their assets. So what about this mysterious CEL engraving?
"I had posted a few years back on the MWR forum asking for any information or possible meaning on the CEL engravings. I had a number of responses but even my Canadian sources were drawing a blank. My thought was that the marking may have a French derivative, so I started looking more closely at any French/Canadian and French connections."
"I recently posted on Instagram, asking if anyone was aware of the CEL meaning. I quickly received a DM from @arthuroduro who was very interested and most helpful. His information led me to various sites with possible CEL links to off shore nuclear test facilities. During this part of the research I came across a US Navy link to the "Naval Civil Engineering Laboratory (NCEL)" at Port Hueneme, California."
The US Naval Civil Engineering Laborartory
Since the mid 1940's, the NCEL has had the responsibility for full research, development and testing of US Navy equipment. This was also the base where the famous "Sea Bees" were stationed. This special forces unit have taken an early and vital role in all of America's wars in Korea, Vietnam, The Persian Gulf, Afghanistan and Iraq. The Seabees motto of "We build, we fight" really leaves you in no doubt how tough this unit is.
"So I decided to go back to my old MWR post and while searching CEL on the forum, another very recent post was found. MWR member @Hurley posted a great article on the NCEL. This obviously peaked my interest as I had just been reading about this organisation and @Hurley's post featured a Doxa that had identical caseback markings to mine. Hurley also confirmed that he had been in contact with a former Commander from the NCEL and that he had acquired a lamp from the gentleman with the same engraving…incredible! When I saw the same crude engraving with CEL 21XX, I was now sure that my watch was used at some point within the NCEL facility!"
Hurley's Doxa issued by the NCEL
The similar engravings to Paul's Tudor 9401s
The Endless Journey
So, what else is Paul doing to find out more about these fascinating Tudors? "Well, my research is far from complete. I now want to find if there is a link between any Canadian Naval unit and the NCEL. How did this 9401 Tudor sub, that we have always presumed was destined for Canada end up in California? I'd love to know if the watch served a dual purpose in both Countries or was it in fact USN-issued? And why has mine been re-engraved at least three times?" Questions questions.
So there it is, a very cool watch with some interesting military history. The first chapter of the saga closes, with a suitable cliff-hanger for the next chapter. But at the end of the day, its a watch that Paul absolutly loves. "There are a number of things that I love about this watch; ranging from the weird, extremely legible dial and hand configuration, with its almost Rolex Maxi dial. You don't see them very often, It's always a talking point with fellow collectors and it's just just an honest well used tool watch."
Fellow collectors will know that this research work is avery time consuming but fascinating part of our hobby. And essentially,  is all part of the thrill of the chase!