New Finds – Lagoven Tudor Submariners
This is the story of three newly discovered Tudor Submariners with similar and intriguing case back engravings. Lightening really can strike thrice!
Every so often a watch appears that actually raises more questions than it answers. We still see military-issued pieces appearing from time to time and often, it is possible to ascertain whether they are correct or not based on information that has been built up over the years. We now know that the French Marine Nationale issued watches, the legendary MNs, fall into certain batches; as do the South African and US Navy Tudors. This knowledge has been collated by enthusiasts over many years and is useful when investigating a new find. Occasionally though, something completely new appears and the journey begins from the very beginning. One-off isolated cases can be hard to research and finding patterns can be nigh-on impossible. And then very very occasionally a small batch of new finds appears and one can, with absolute certainty, know that there is a pattern and a story. Such was the case when US-based dealer Kirill Yuzh was offered not one, but THREE Tudor Submariners with similar and intriguing case back engravings. Lightening really can strike thrice!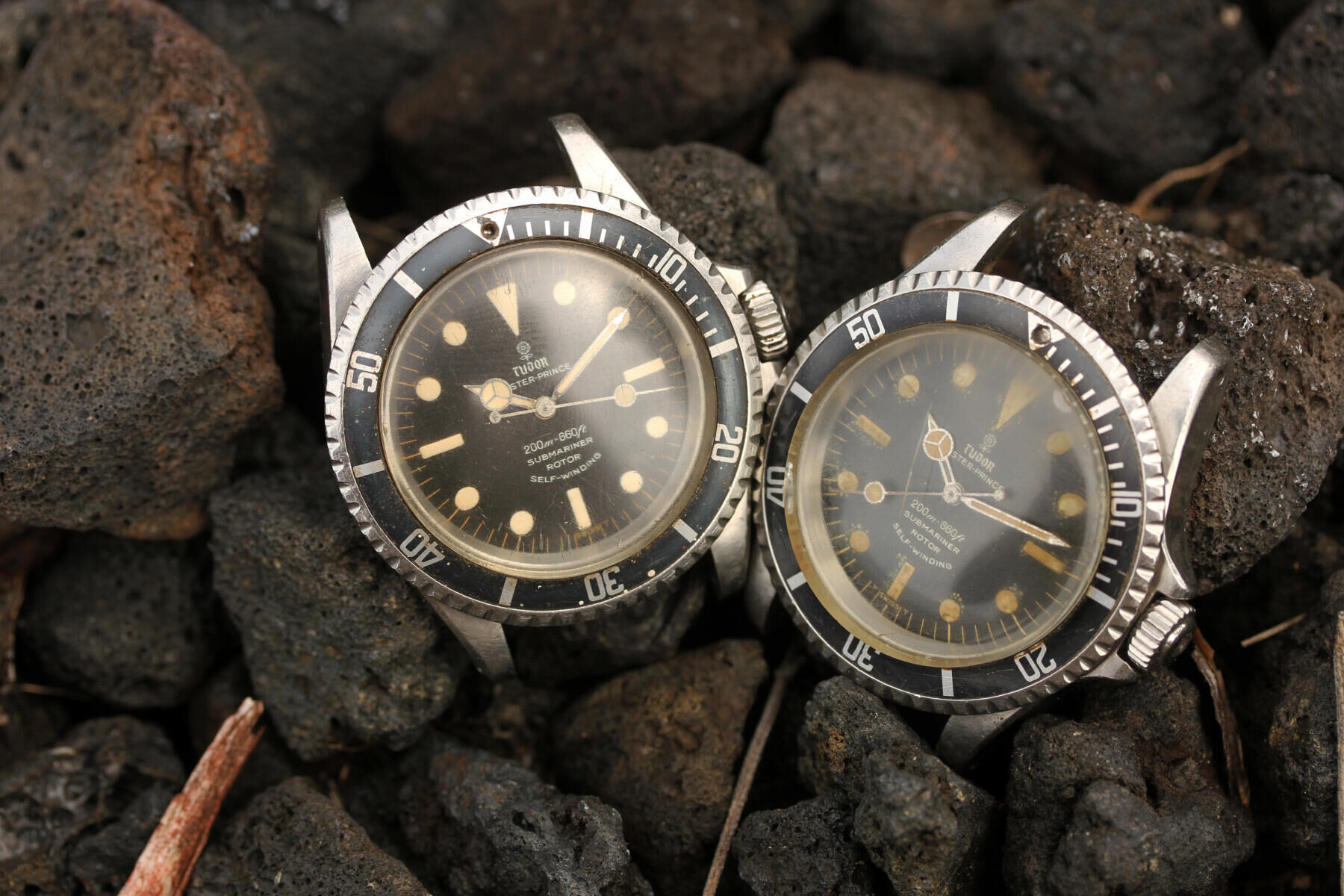 Good things come in threes...here are two of them!
A Rare Find
Kirill picks up the story: "The first watch I found was in September of 2019. One of the dealers I do business with in South America offered me the watch, which came out of Venezuela. It was presented as a normal 7016 with Shield Logo, which I purchased as a "normal" 7016. I couldn't make out clearly what the caseback was engraved with on back but upon receipt and inspection, I saw that the serial number of the case was engraved on caseback along with the word LAGOVEN."
Watch One with shield dial
The caseback engraving of Watch One
And so he did what all watch-geeks do and started researching Lagoven and discovered that it was a state run oil company. As Kirill points out, "We see and find plenty of watches which are awarded to executives as gifts by companies and we also see milestone gifts from friends and family members. Those, however, usually do not have the serial number on the caseback and usually commemorate a certain period of time spent with the company or a promotion."
Lightening Strikes Twice…And Again!
But then less than a year later, another two watches appeared. This was the pattern that was needed to help develop the story that the first watch began. All three of the watches are reference 7016s.  One has a shield logo, one a rose dial and one is an example of the transitional Subs with rose logo and "semi-pcg" case.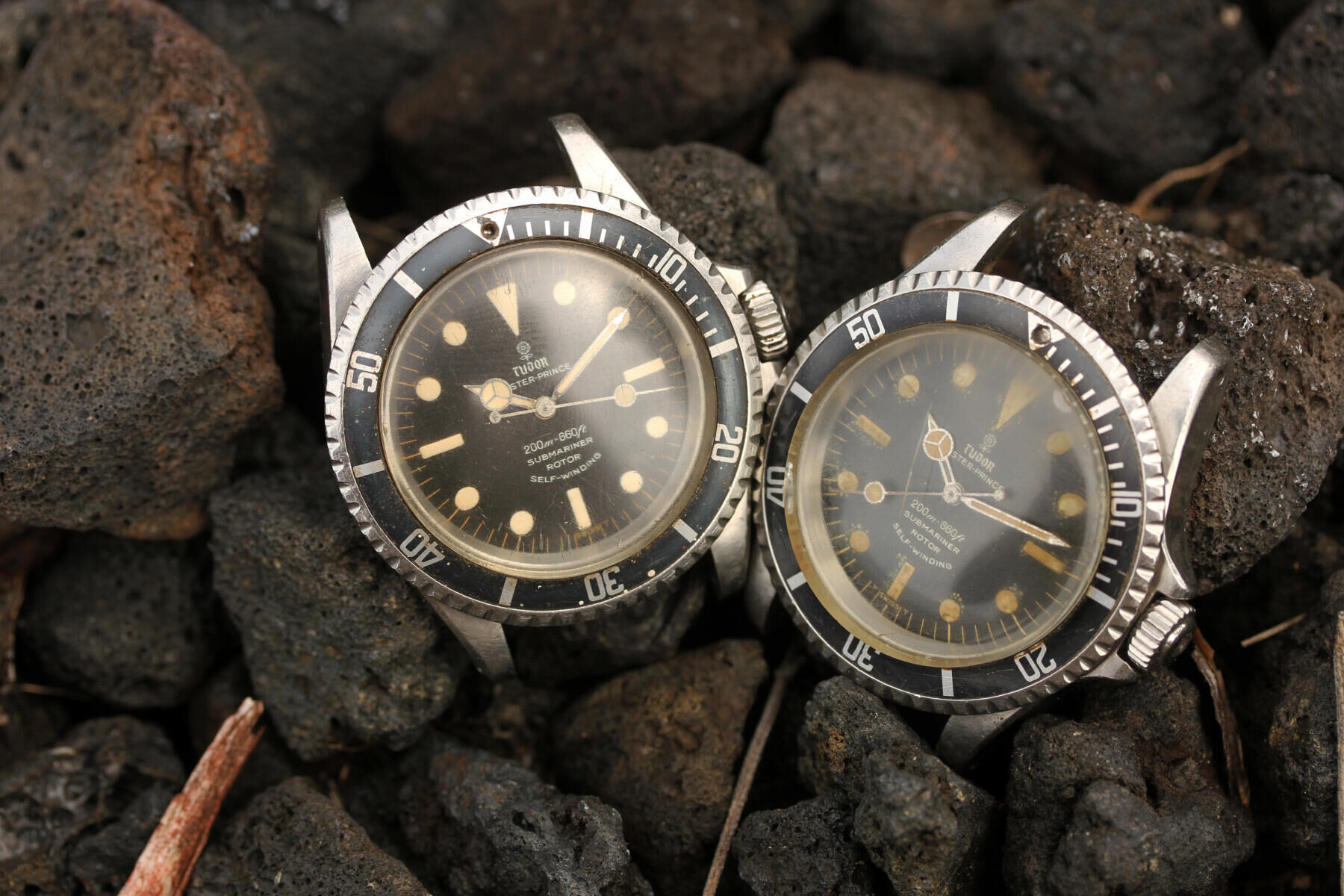 We know that a number of military or other issued watches can often have the serial number on the caseback. Often a stores master's way of keeping records quickly, the watches could be signed out to divers and logged in a book or ledger using the code or number on the caseback. This is how the South African Tudors were managed as well as the Argentinian military pieces. Since it is documented that Lagoven was involved not only in sales, but also exploration and production of oil, it made sense to me that these watches were purchased by the oil company to be used as tools for diver's during exploration and maintenance. The number was important since we can see a correction which was made on the first watch. They originally stamped "2" at the end of the serial, but it was supposed to be a "9", so the 9 was stamped over it.
The altered caseback engraving
The serial number on Watch Two which was repeated on the caseback
The serial number on Watch Three which can also be seen on the caseback
The Lagoven Story
On the 1st January 1976, the Venezuelan government nationalized the country's oil companies. Venezuela has the world's largest oil reserves and so the sale of this oil is a huge revenue stream for the government. In 1976 Petróleos de Venezuela, S.A. (PVSA) was formed as the government's oil and natural gas company. Prior to this a number of foreign companies were based in Venezuela and following the nationalisation these companies were replaced by state-owned entities. For example, Shell was replaced by the newly formed Maraven and Mobil by a new company called Maraven. US firm Standard Oil was replaced by Lagoven.
The first oil was discovered in Venezuela in 1914 and by 1938 three companies dominated the oil business there. One of these was Standard Oil, who along with Shell and Gulf, controlled 98 percent of oil production. Standard Oil had a huge operation on Lake Maracaibo, which was established by Creole Petroleum in 1920 (who were acquired by Standard Oil in 1928). Lake Maracaibo is actually a tidal estuary that is connected to the Gulf of Venezuela and it is a major shipping route.
Lake Maracaibo Oil Fields
Standard Oil needed divers to maintain their rigs, pipelines and other equipment. I understand that some divers were full-time employees, whilst others were freelance divers. It was common for US Navy diver, post service, to work in Venezuela and so I imagine that from time-to-time ex-US Navy divers worked for Standard Oil and maybe post-1976 for Lagoven.
A maintenance diver in Lake Maracaibo
The Watches
This is the order in which the watches were discovered:
Watch One dates to 1972 (742032)
Watch Two dates to 1968 (624862)
Watch Three dates to 1969 (737782)
And so I have a theory that I believe is supported by watch two…bear with me! Watch two has another, more elaborate engraving on the case back, which is faint but is there. The faint engraving on 624862 is, I believe, the original way that the watches were marked by Standard Oil when issuing watches to freelance divers. In the four years running up to the nationalization, the Venezuelan government devised the scheme for the takeover. One of the less palatable conditions was around capital equipment purchasing. The government essentially bought all the capital assets and reimbursed for consumables bought between 1971 and 1975, but at 10% of the initial cost. This was national money being spend and so the newly formed parent company, PVSA, asset-tagged all equipment as it became state owned.
And so back to the three Tudors. These were marked as the property of Lagoven, itself a subsidiary of PVSA. I believe the watches were bought by Standard Oil and the serial numbers would indicate this was done between the late 60s and early 70s. A huge oil company didn't need to worry about small costs and so would have bought them new. US Navy divers were issued Tudors and would some would have been working for and with Standard and therefore Tudors would have been the natural choice for Standard. SO when Lagoven took over Standard Oil's operations and ownership of the assets, they would have engraved them in 1976. This is a few years into the watches' operation life and explains the earlier faint engraving on 624862…maybe!
Watch Two with the original faint "624862"
And of course, Kirill is always on the look our for new and exciting finds. "Being a vintage dealer, the thrill of hunt and learning (or guessing) the watch's history are the most exciting parts. I have been doing this for over a decade, bought and sold many, many watches and am being reminded that even today, we still come across vintage watches which carry history we have not learned before. This is exciting stuff!"
See these watches here on Kirill's site.