Heirloomers – A Well Travelled Tudor Oysterdate
Today we talk to a collector who inherited a Tudor Prince Oysterdate that was awarded to the current owner's Grandfather. The watch started life in Switzerland, was sold in North Africa, spent decades in South Africa and now resides in Oman...
Paul Winter has always loved watches. It seems that so too did his grandfather, as Paul discovered one day going through some of his belongings. Within a number of trophies from a life spent traveling was a 34mm Tudor Prince Oysterdate. When Paul turned the watch over, an interesting story unfolded.
"I always knew my late grandfather had a collection of old watches, coins and photography equipment, as well as a collection of memorabilia from his time spent serving with the South African/Allied forces in North Africa during World War 2. I am originally from South Africa, but have been living and working in the Sultanate of Oman since 2013, and have become more and more of a watch enthusiast. So, during a trip back to South Africa to visit my family in 2017, I was keen to have another look at my grandfather's collection. Shifting through what he had, I was thrilled to see this handsome Tudor Prince Oysterdate. He received the watch in 1975 as an end-of-service award for his work as a survey draughtsman at Konkola Mines in Zambia (previously named Northern Rhodesia up until 1964). The watch has my grandfather Len Graham Winter's initials and employee details engraved on the caseback."
The Tudor Prince Oysterdate reference 74000 awarded to LG WInter for his work with the mining company.
The special caseback engravings on the awarded watch
The Heirloom
Knowing Paul's passion for watches, his parents were happy to pass it on to him for safe-keeping. It's now a sentimental addition to his small but growing collection of new and vintage time pieces and early diving depth gauges.
The watch's caseback engravings read:
KONKOLO DIV
L G Winter
E 2343
1975
As every watch collector would, Paul began asking his father for as much information as he could, that might help fill in some of the gaps pertaining to the case back engravings. "My father mentioned that that the Tudor was given to my grandfather as a presentation award for his service as a survey draughtsman at Konkola Mines – a copper mining company that operated and still operates within the "Copperbelt Province" of Zambia (formerly Northern Rhodesia)."
According to Wikipedia, the Copperbelt Province was the backbone of the Northern Rhodesian economy during British colonial period and fueled the hopes of the immediate post-independence period, but its economic importance was severely damaged by a crash in global copper prices in 1973.
"I do think it's interesting that Tudor Watch Company had a physical presence in Zambia as early as the 1970s – and perhaps even earlier. At this time, many people would still have considered it a very wild and exotic place. 'Wild' in the sense that this was where wildlife like African lions and other big cats, crocodiles, hippos, baboons, and some very large snakes still roamed free, and still formed a very real part of everyone's daily life!" And Paul's grandfather had his own brush with danger when playing gold one day: "While my grandfather attended to his daily draughtsman profession, my father – a young boy and passionate golfer at the time – spent many hours with his friends exploring the local community golf courses that had sprung up in the rich Copperbelt Mining towns. He says that during a round, you were almost guaranteed to see hippos and crocodiles or a snake or two on a course. At one of the local courses, a local rule allowed the golfer to drop out without penalty if a ball came to rest in a hippo footprint!  Once, when he was walking along a narrow path through thick bush to his next tee, my father turned a corner and found himself face to face with an enormous croc just a few feet away. He got the fright of his life, but fortunately the croc quickly crashed through the bush back to a nearby river. Such was life in this magnificently wild part of the world at this time!"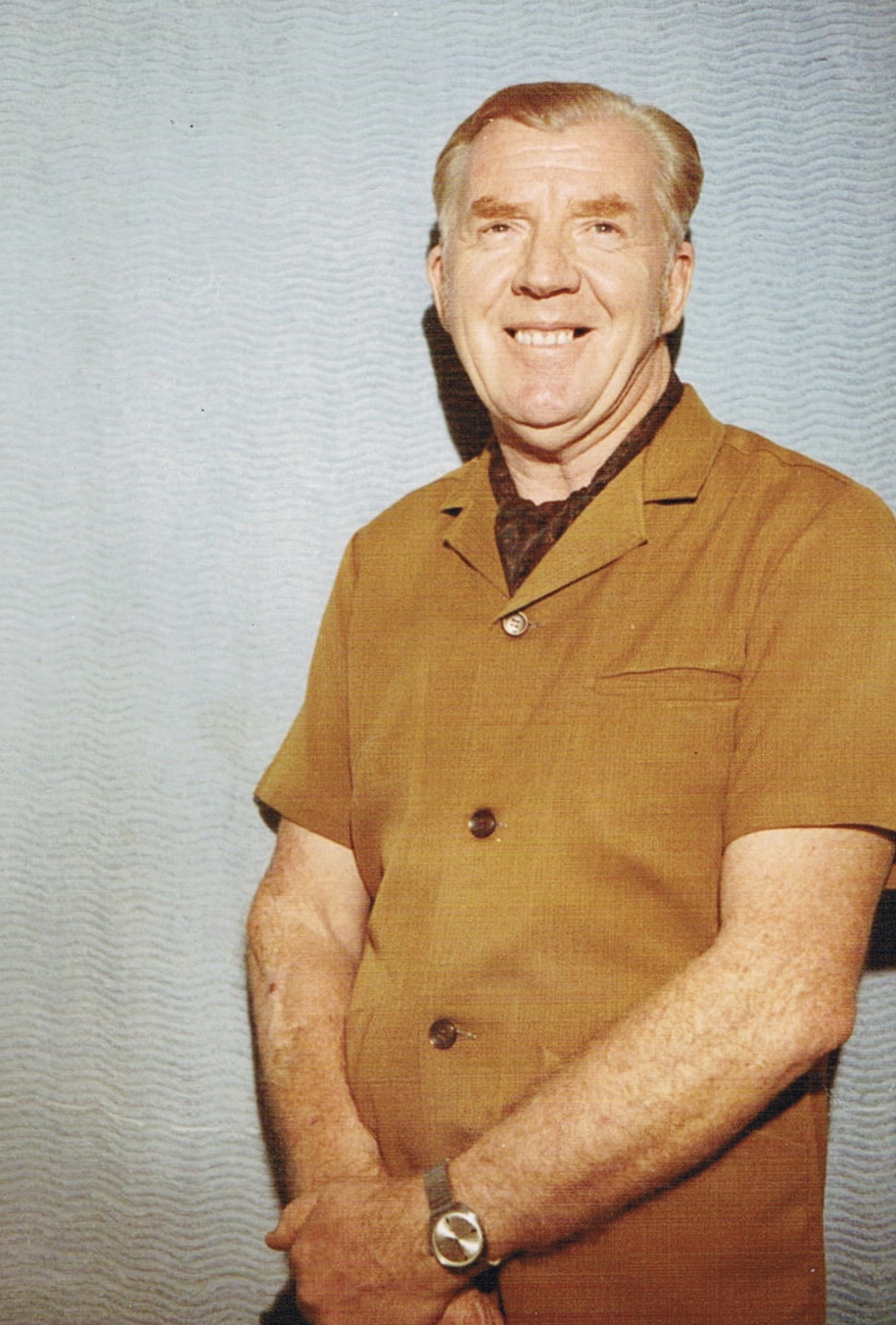 Mr LG Winter wearing another of his watch collection
The Journey Continues
"Post 1975, my grandfather took the family (and the watch) and moved to South Africa where he continued his draughtsman profession. My father remembers that my grandfather absolutely loved watches; that he had one on his wrist nearly every day of his life; and that he must have been very pleased to receive the Tudor Prince Oysterdate as a gift. I think there's something significant about this specific watch's story: In what must have been the late 60s or early 70s, it ventured off from its original home in Switzerland into the raw African wilderness of Northern Rhodesia, then further south into South Africa. Now, over forty years later, I'm happy to accompany the watch as it continues its journey in Arabian Peninsula and the Sultanate of Oman with me."
What is it Paul loves most about the watch? "The watch is in great condition and I'm happy to have been a part of its return to everyday life. I also appreciate that it offers a little window into my grandfather's life, my father's life, and ultimately my own life. Finally, I think many watch collectors will agree that the more context you put into a watch by learning about its design, manufacture, previous owners, historic background – the more meaning it ultimately gives back to you. I've experienced this with this Tudor Prince Oysterdate."
This is an older map featuring what was previously Northern and Southern Rhodesia. Images taken now in 2020 with the watch.
This is a old map of the Sultanate of Oman from a Wilfred Thesiger book. Image taken now in 2020 in Oman.
As the third generation custodian, can Paul imagine passing it down to be be worn by the fourth generation of Winters? "While the Prince Oysterdate's design lines are quite masculine, I did have the idea of passing it on to my future wife (and/or future daughter). I think with a light blue or similar colour strap replacement, the watch could be given a nice feminine touch. In the meantime, I do have plans to acquire another Tudor with bigger, bolder looks – perhaps one of the Black Bay series – for my own personal use, and to continue this Tudor bloodline in my family!"
Paul's grandfather being admitted to hospital after being wounded in the Battle of Gazala in North Africa in June 1942. (Shrapnel wounds in right arm).
Collection of Paul's grandfather's war medals for his service in World War 2.
Paul's grandfather was a war veteran, adventurer and had a keen eye for style and design. And he got himself into a few scrapes over the years. "My grandfather was wounded in the right arm by enemy shrapnel during the famous WW2 Battle of Gazala in June 1942, in northeastern Libya. The injury essentially put him out of action for the rest of the war, and he was sent to convalesce in a military hospital in Cairo and then South Africa. On more than one occasion, my grandfather had told my father about fun times during World War 2 on the North African front in Libya and Egypt. One day during a short break in the fighting, he and a buddy somehow managed to sneak over enemy lines, and capture a presumably unattended German BMW field motorcycle. Together the two went on a joy-ride around the North African desert for a few hours, before they handed it over to their command. I don't know the exact details, but I definitely would ask my grandfather for more info if he was alive today! Later in life, he continued his passion for acquiring BMWs, one of which was a gorgeous 1960s BMW 1602 coupe!"
It seems that watch enthusiasts are often photography enthusiasts. True to this, Paul's grandfather was a passionate amateur photographer. He developed many of his own images on film, and ended up winning a few local photography competitions.